Latest News
Submitted by: 28-Feb-2019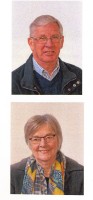 Last Sunday, Feb 24th, our service was led by Rev Brian Westaway, and the sermon given by our Senior Pastor, Rev Peter MacPherson.
Some 70 people attended a wonderful service, where we heard a great message from Peter about investing your skills and time for the furthering of God's work, and the great joy that brings.
We farewelled Brian and Judy Westaway after the service with a special morning tea. It was really a lunch - lots of food to share.
We presented them with a gift and a large card, to thank them for their wonderful leadership, faithful Christian ministry and their friendship to us all.
...
read more
I Spy Photo Gallery
These photos are from our I Spy holiday program run during April 15 - 18