9.30am Service Suspended
The 9:30am Sunday service is suspended due to coronavirus crisis.
When the service resumes it will have a mixture of traditional and modern music, readings from the Bible, a sermon, and the celebration of Communion.
During term time, there is a Children's Program (each week) that runs during this service – the younger members of the Church re-join us in time for the celebration of Communion. Click the above link for details.
Special services are also held for Christmas and Easter celebrations. The details of these services will be advertised in our News & Events Pages.
Candlelit Carols Service - Christmas Eve 10.30PM at St Alfred's - This is a very popular service filled with carols and Bible Readings and a short homily. A wonderful time of community celebration of the joy of Christmas.
Christmas Day Services - 9.30AM at St Luke's and 10AM at St Alfred's - Carols and Holy Communion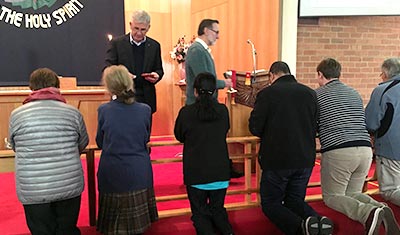 Communion
Communion is a service which includes the sharing of bread and wine in recognition and remembrance of the meal that Jesus shared with His disciples before he was betrayed, taken prisoner and then gave His life, before rising from the dead on the third day.
It's a service of thanksgiving where we use bread and wine as symbolic representations of His love for the disciples, and for all of humanity. The bread represents His broken body and the wine His blood poured out for the forgiveness of our sins.
We proclaim together that Jesus has died, Jesus has risen and that Jesus will come again.
We recognise that the taking of wine may be difficult for some –we have that covered, offering grape juice instead of wine.
We welcome all who love Jesus, are committed to Him to take Communion with us.
If you are unsure about taking Communion, then we invite you to come forward to the Communion rail at the front of the Church and ask for a blessing instead.
Looking for An Evening Service?
If you wish to attend an evening Worship Service then we strongly recommend the 6PM service at our Partner Church in Mission, St Alfred's Anglican Church, 107 Springfield Rd, Blackburn North.