Solomon & The Kingdom of God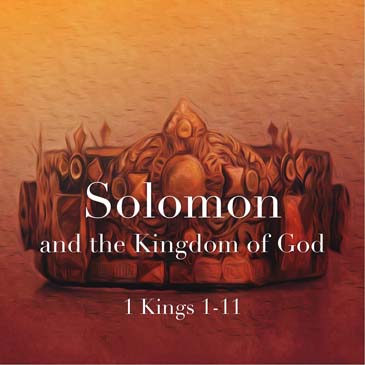 About this Series
Kings is God's story about God. We see the activity of God in the events of history. Great truths about God are embodied in real people.
Kings tells us about the kingdom of God - we get a view of a small earthly kingdom (Israel) that is a genuine anticipation of the kingdom of our God and His Christ.
Kings tells us about the Word of God. The centrality of the Word of God is established by David's last words to Solomon (1 Kings 2:1-4) and continued by a variety of prophets.
Kings points us to Christ. Despite the failures of the human kings, there is a hope that one day a Son of David will indeed establish the eternal kingdom promised to David.
(Teaching 1 Kings by Bob Ryall 2015)
Divided King, Divided Kingdom
8th March 2020
Bible Text:1 Kings 11:1-13,29-43
Preacher: Peter MacPherson
Series: Solomon & The Kingdom of God
* Sermon from St Alfred's*
Wisdom and Wealth
1st March 2020
Bible Text:1 Kings 10:1-15, 23-29
Preacher: Mark Simon
Series: Solomon & The Kingdom of God
God Speaks
23rd February 2020
Bible Text:1 Kings 9:1-28
Preacher: Peter MacPherson
Series: Solomon & The Kingdom of God
The God of Heaven and Earth
16th February 2020
Bible Text:1 Kings 8:1-13,22-30,46-53
Preacher: Mark Simon
Series: Solomon & The Kingdom of God
The Temple of the Lord
9th February 2020
Bible Text:1 Kings 6:1-22,7:40-51
Preacher: Mark Simon
Series: Solomon & The Kingdom of God
Wisdom in Action
2nd February 2020
Bible Text:1 Kings 4:20-5:12
Preacher: Mike McNamara
Series: Solomon & The Kingdom of God
Solomon's Wisdom
19th January 2020
Bible Text:1 Kings 3:1-28
Preacher: Mark Simon
Series: Solomon & The Kingdom of God
Solomon's Rule
12th January 2020
Bible Text:1 Kings 2:1-29
Preacher: Dr Neville Carr
Series: Solomon & The Kingdom of God
The Kingdom In Danger
5th January 2020
Bible Text:1 Kings 1:1-6 &28-53
Preacher: Dr Neville Carr
Series: Solomon & The Kingdom of God